Make a mosaic, hassle free!

Congratulations! You have discovered my #DIY Mosaic Kits for adults.
You can now be creative at home without any of the stress of sourcing mosaic tiles, materials or tools!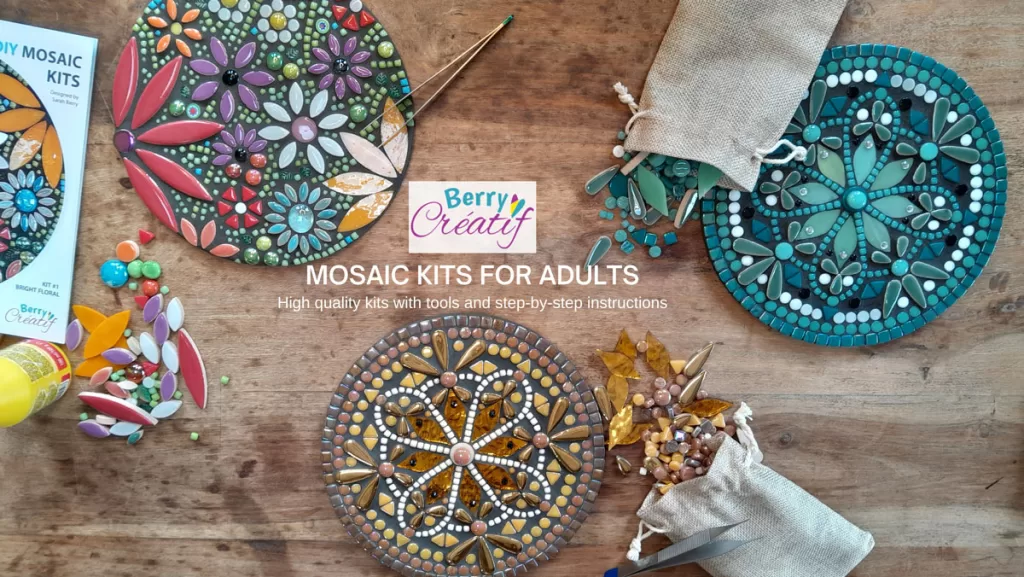 As a passionate mosaic artist, I want to give you the opportunity to make your own mosaic but without any stress. My #diymosaickits will give you the creative outlet you're searching for, and they include everything you need to create a completed (and grouted) piece of mosaic artwork you'll be proud of.
Making mosaic is a wonderfully creative hobby, but you don't need to be artistic to make your own mosaic wall art. These kits require no experience as full written instructions are included. They are easy to follow and show a full colour image of the finished item so you can keep track of your progress.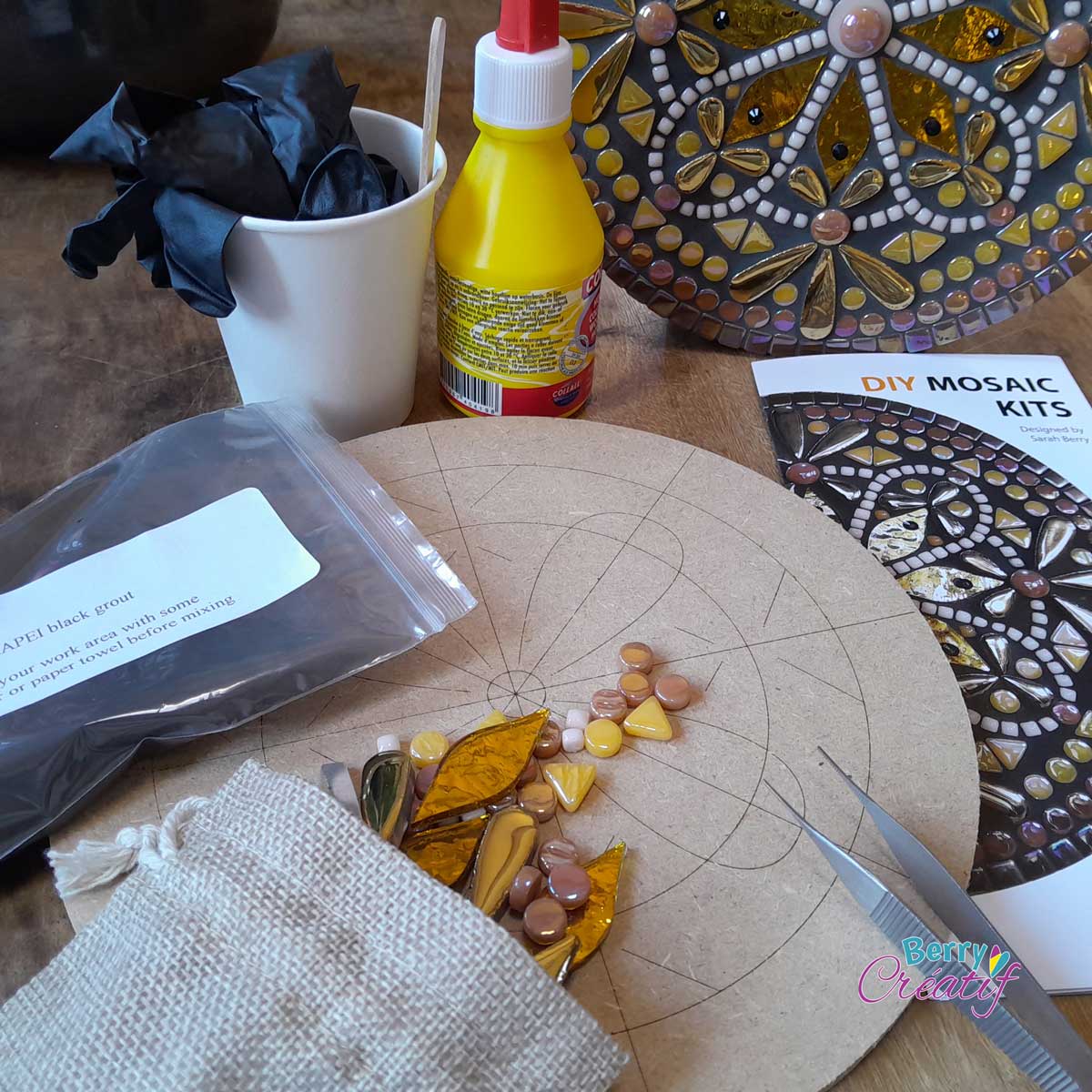 What is Mosaic?

A mosaic is a pattern or image made of small regular or irregular pieces of colored stone, glass or ceramic, held in place by plaster/mortar, and covering a surface. Mosaics are often used as floor and wall decoration, and were particularly popular in the Ancient Roman world. (source:
wikipedia
)
There is a huge history surrounding mosaic murals, walls and floors and I have been lucky enough to see some of these first hand in old Roman settlement towns in UK and Tunisia. My lasting thoughts were firstly their vast sizes (how long they must have taken to make!), and also how they were made when so few tools were available….
As well as floors and murals, modern day mosaic now also includes wall art, hobby crafts, and industrial and construction forms.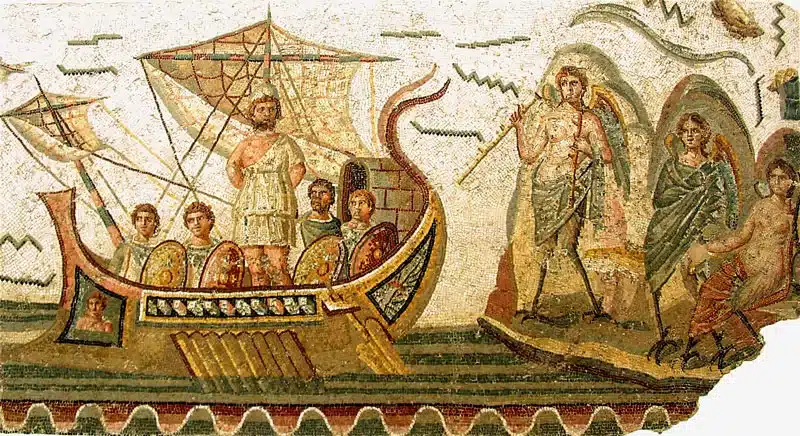 Roman mosaic of Ulysses, from Carthage, 2nd century AD, now in the Bardo Museum, Tunisia
How do I Make a Mosaic?

The process of making a mosaic using one of my kits is simple.
Firstly, everything is provided for you, so it is hassle free 👍
After buying a kit, you start by glueing the mosaic tiles to the MDF board, following the design and images supplied. Once all the tiles have been applied and the glue is dry, you would grout the item. The grouting process fills in all the gaps around the tiles, and makes the whole thing much more stable. A powdered grout is mixed with water, and completely covers the board and tiles. Then this is carefully wiped away, revealing the ceramic and glass tile pieces underneath. The grouting process is my favourite part! It's when all the colours really 'pop' and the finished artwork is seen for the first time.
Different designs use different colour grouts, so there are many options available.
Mindful Mosaic Making
What is 'Mindfulness' ?
The Dictionary definition states: "a mental state achieved by focusing one's awareness on the present moment, while calmly acknowledging and accepting one's feelings, thoughts, and bodily sensations, used as a therapeutic technique."
When we make a mosaic, we slow things down to concentrate on positioning the small elements of the design. These could be small portions of tile, or glass, or even found objects that might be used. Concentrating on the cutting, placing, glueing and the design overall really help to slow our breathing, focus the brain and clear the mind. In general mosaic making is a really therapeutic hobby, and I love it.
My Experience
I am a passionate and experienced 'maker'. I have spent over 20 years creating mosaic art and understand how to make my mosaic kits the best version they could be. The wall art designs are simple yet stunning, and the mosaic tiles and glass pieces are a high quality. The kit includes everything you will need to create a finished piece of mosaic art that you will be proud of and want to show off to everybody who comes through your front door!
I pride myself in using high quality components, materials and tools – I want you to love this experience as much as I do, and have a finished mosaic artwork that will last. I am on hand for any questions or advice about the mosaic making process and every customer is invited to join our private community of mosaic makers via our Facebook group.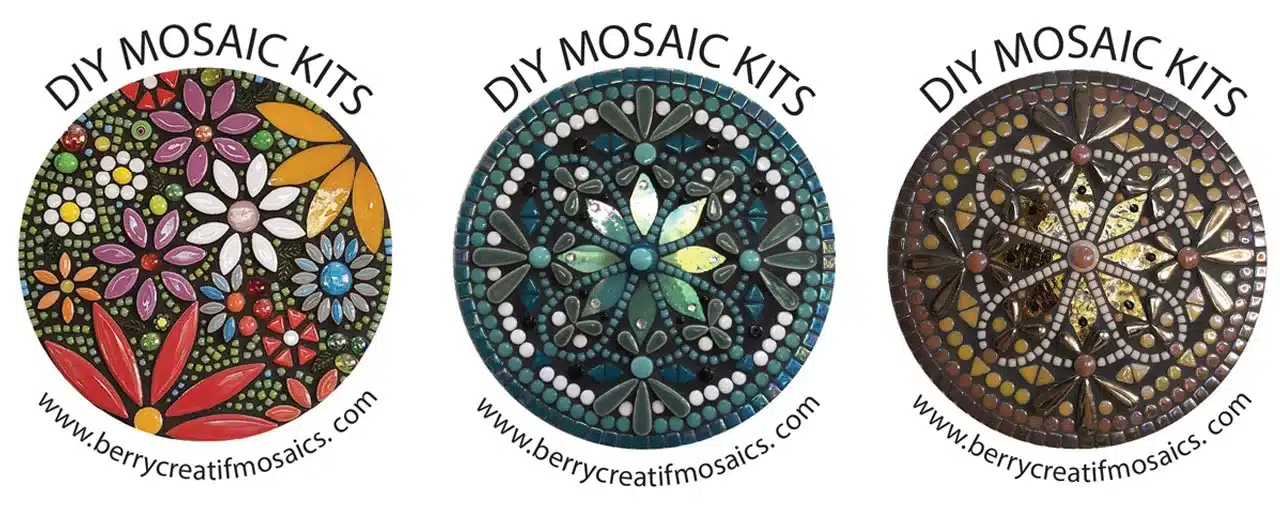 About the Kits

My mosaic kits are designed for adults – or actually for ages 14 years and above. They are not suitable for small children. This is because there are some sharp elements and cut glass pieces, which must be handled with care.
Each kit has been carefully designed and planned, and the physical product has been prepared by hand. (No machines here!)
There are different techniques applied to my kits.
Some are "No Cut", which means that all the tiles provided are shaped and do not require any cutting at all.
Currently these include #1 Bright Floral, #2 Blue Mandala, #3 Gold Mandala and #4 Blue Squares.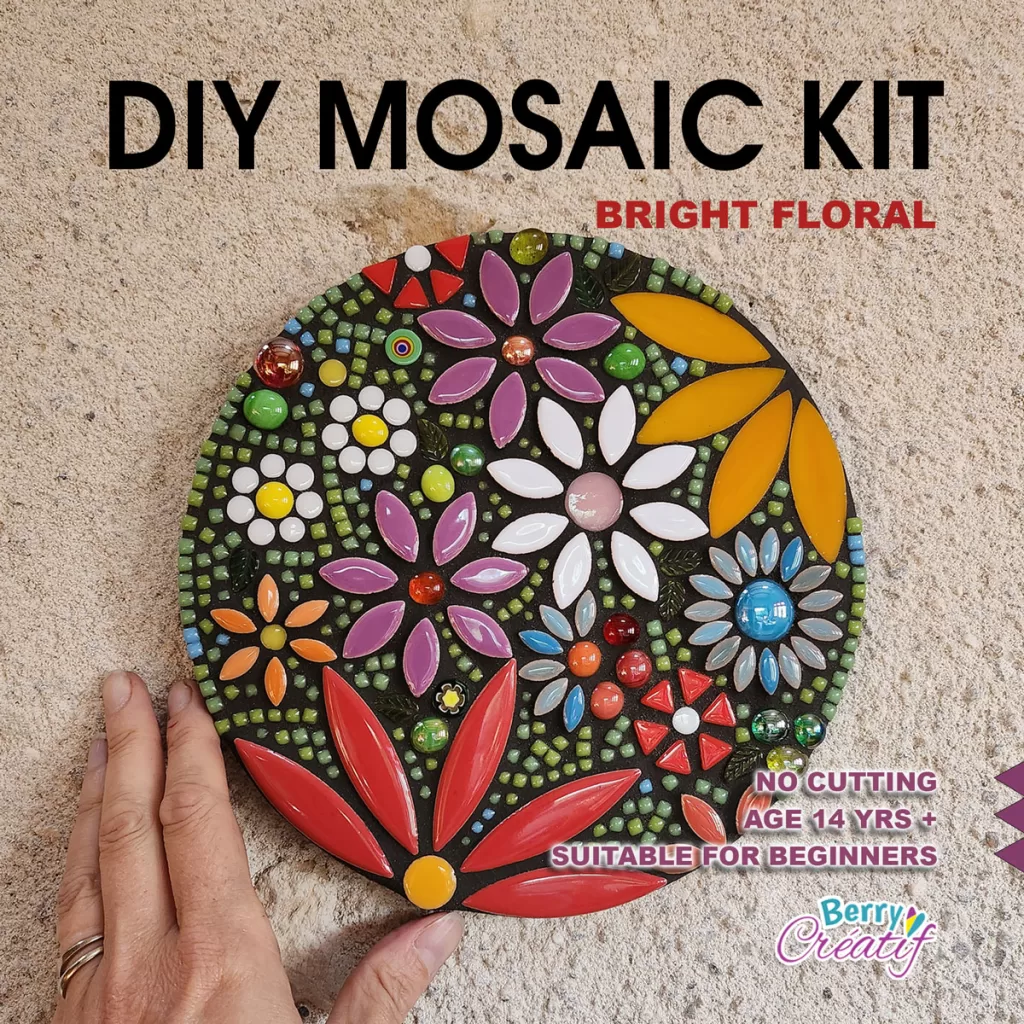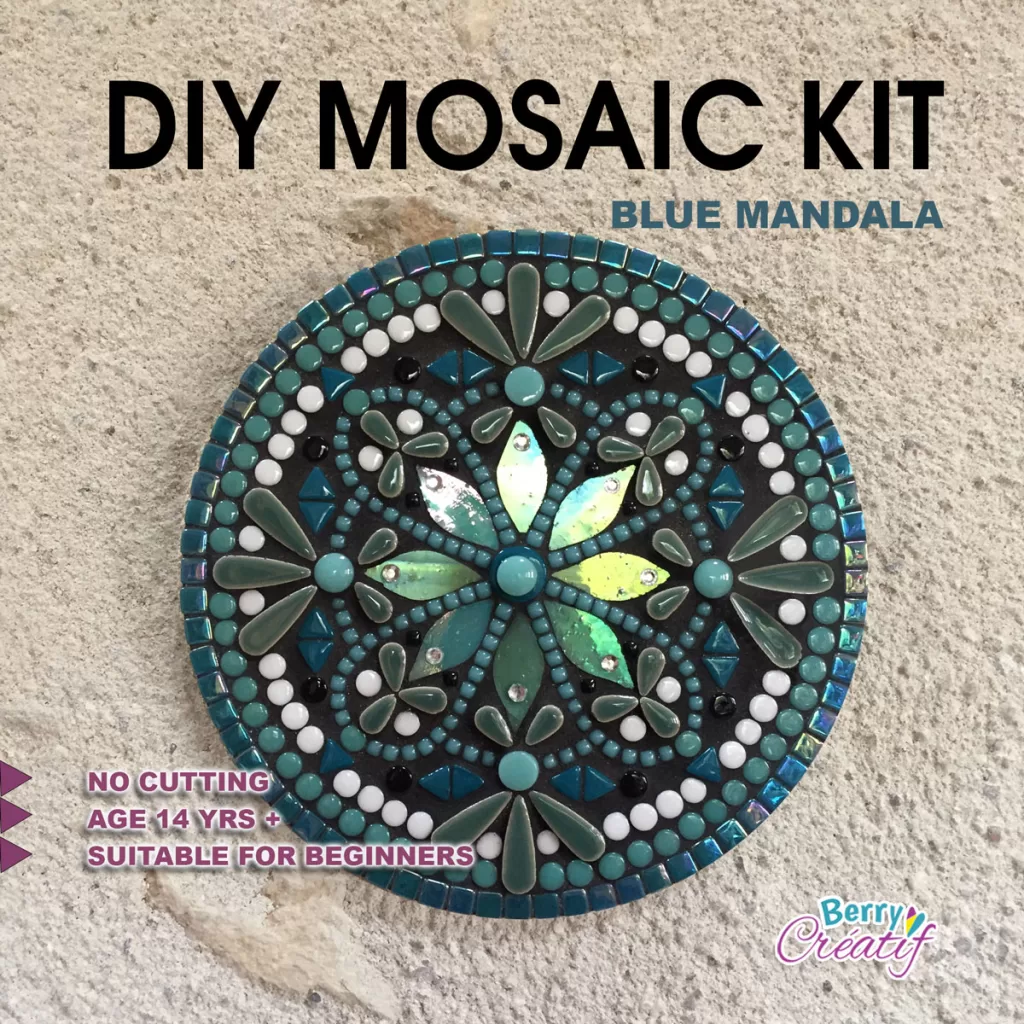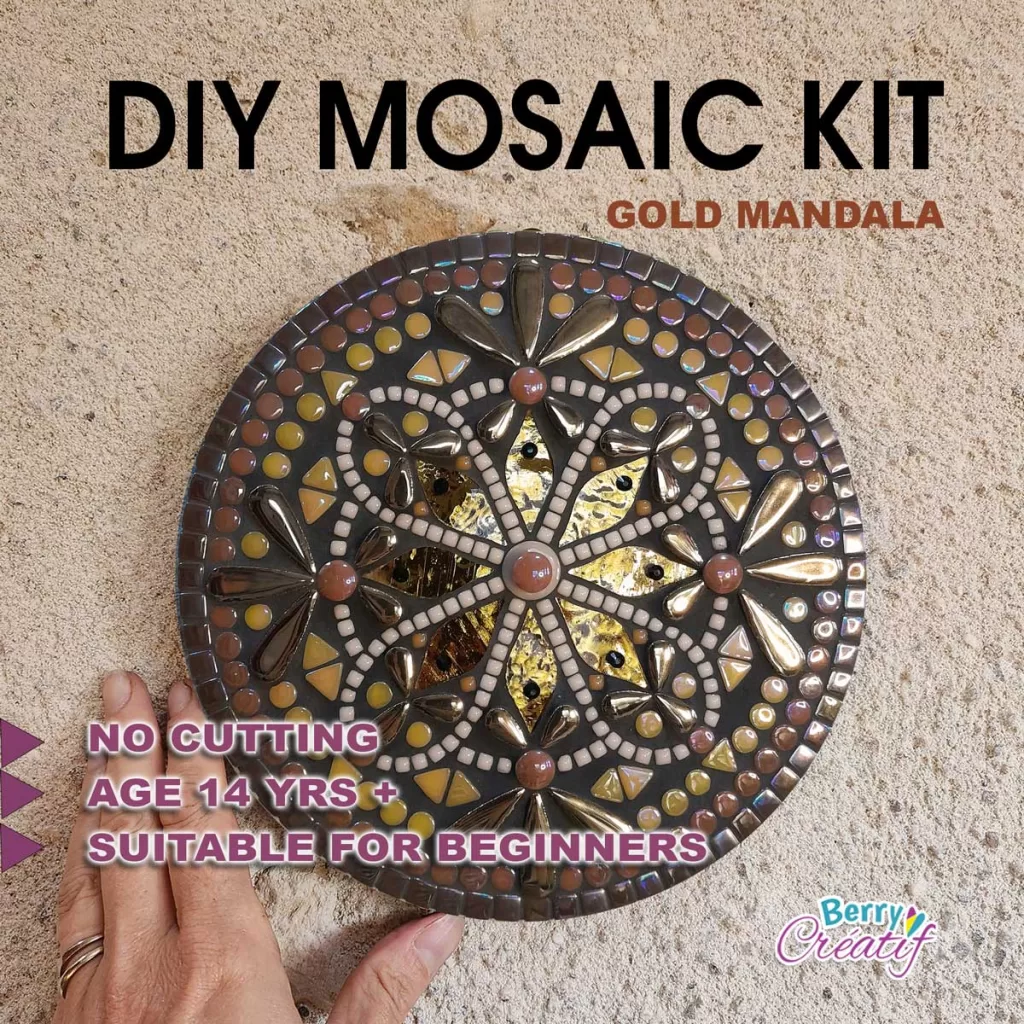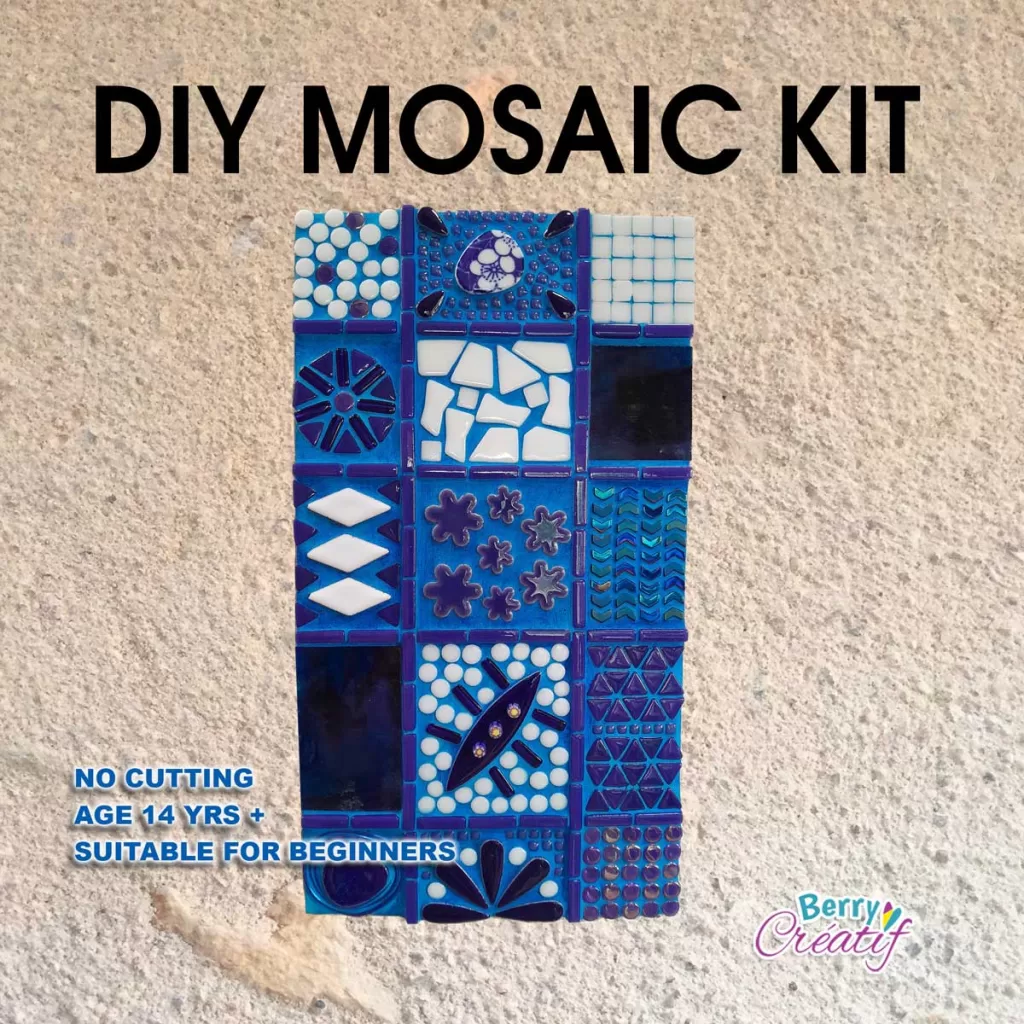 Other kits do require some cutting (#5 Outdoor Sunflower).
These kits have some square glass tiles included and will have the tile cutters (or nippers) provided to cut them into smaller pieces.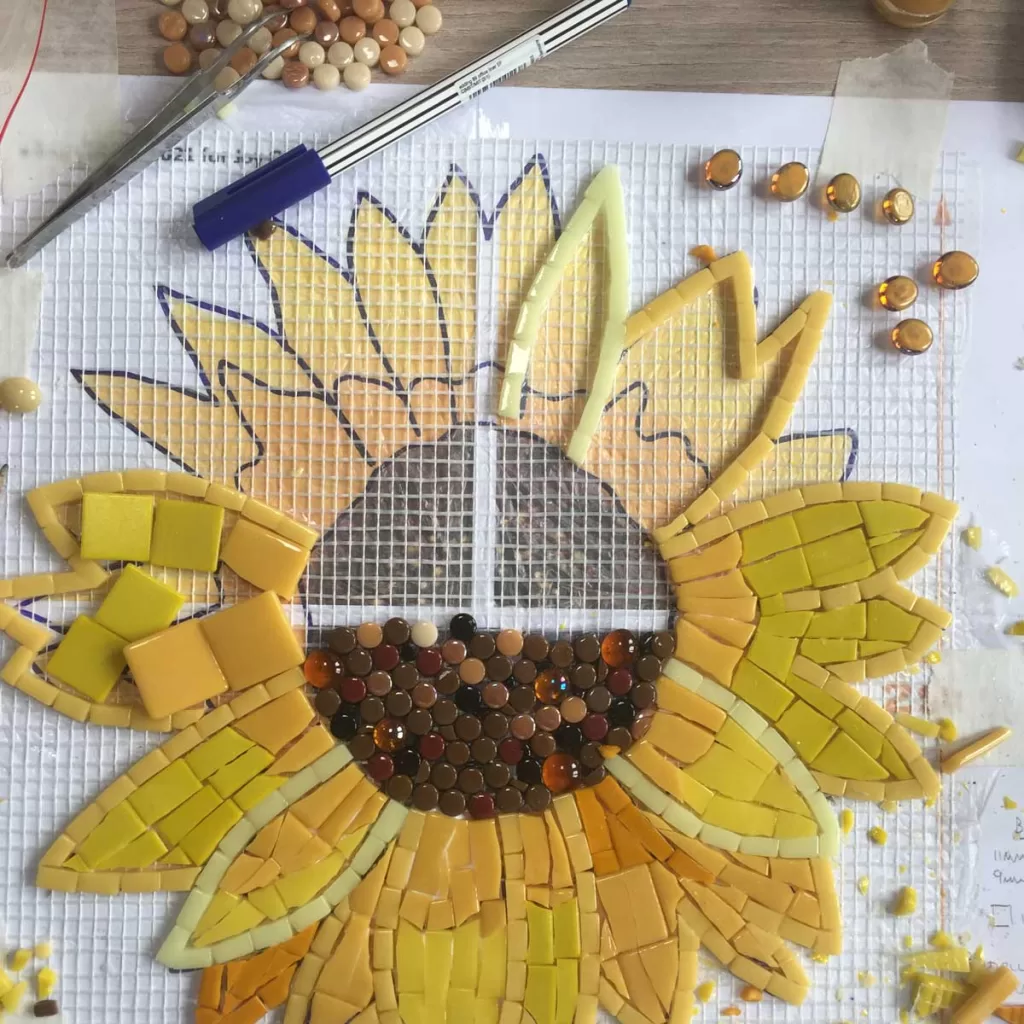 If you already have tile cutters from a previous mosaic project, you can order my kits without this tool, at a reduced price.
All kits are boxed in plain cardboard with biodegradeable packing chips to stop movement in transit. The boxes are housed in a plastic postal envelope to keep the contents dry. I aim to use minimum plastics in my DIY mosaic kits and I am delighted to support the work of the International Animal Rescue.
A donation from every kit purchased is sent to help replant the Indonesian rainforests and provide new homes for the animals.